Looking to start your own home healthcare business? Read on.
The home healthcare sector is one of the fastest-growing healthcare industries in the United States.
In 2019, there were approximately 1.4 million people employed in home health care services in the US.
Home health workers — comprising nurses, therapists, and personal care aides — provide a range of medical and daily living services to nearly 12 million people. Most of whom are elderly and many chronically ill, disabled, bedridden, or struggling with Alzheimer's disease and other cognitive issues.
Fueled by over 73 million baby boomers – almost 25% of the U.S. population – there's never been a better time to start a home healthcare business.
In this guide, we'll explore what services home healthcare agencies provide and why demand is soaring, and then share 14 steps you need to follow to start a successful home healthcare agency.
What Services Do Home Health Care Businesses Provide?
The term "home health care" refers to medical treatment or assistive care for patients who don't require hospitalization or facility care but do need additional support to live safely at home. Medical professionals or professional caregivers visit individual's homes to provide some sort of help or care.
While home care can involve medical treatment from medical professionals, most health care is assisting individuals with daily activities‌ ‌such‌ as‌ ‌bathing,‌ ‌dressing,‌ ‌and‌ ‌eating.
Medical vs. non-medical home care business
Medical home care is provided by medical professionals and includes wound care and general nursing services, such as monitoring blood pressure and mental state. This type of care is typically needed by senior citizens and those recently discharged from hospital.
Non-medical home care is provided by professional caregivers or other (licensed or unlicensed) non-medical personnel and is based around essential day-to-day assistance. For example, home care aides will prepare meals, clean the house, help change or dress an individual, or drive them to or from doctors' appointments. They might also play cards or board games to keep seniors cognitively engaged. 
Demand for Private Caregiver Services is Growing
The private caregiver services sector is one of the fastest-growing healthcare industries in the United States. Demand is driven by over 73 million baby boomers, representing around 25% of the U.S. population.
Aging baby boomers are placing more demands on the healthcare market to provide home care. As life expectancy increases, seniors who need long-term care prefer to stay in their homes, which means additional private caregivers will be required.
However, aging boomers are not the only reason the nation's population is getting older. Longer lives — in part due to better health care — and record low birth rates among young women are also significant factors.
According to a survey of US adults, around 18% indicated that an in-home care service provider would be most likely to provide long-term care if needed.
Here are five more reasons to believe demand for private caregiver services in the U.S. will continue to grow:
14 Steps to Start a Successful Home Health Care Agency
Here are 14 steps you need to follow when launching your successful home healthcare agency:
Step #1. Create a business entity
Various types of business structure are ‌available:‌ Sole Proprietorship,‌ ‌Partnership,‌ ‌ Corporation,‌ ‌and‌ ‌Limited-Liability‌ ‌Company‌ ‌(LLC). The type of business you form will determine how much tax you pay, what kind of organizational structure your business will have, and the personal obligations you assume as a result.
Step #2. Obtain an Employer ID Number (EIN)
An Employer Identification Number (EIN), also known as the Federal Employer Identification Number (FEIN) or the Federal Tax Identification Number, is a unique nine-digit number issued by the Internal Revenue Service (IRS) to business entities operating in the United States for identification purposes.
Step #3. Register with the Secretary of State
Your location and business structure determine how you'll need to register your business. In most cases, registering your business is as simple as filing your business name with state and local governments.
Check the Secretary of State's website in your area for business name availability, and also check if the domain name is available for your website. When your business name and entity are approved, go ahead and get letterhead, business cards, and brochures printed.
Step #4. Draft a formal business plan
Next, you'll need to draft a business plan that will be the foundation of your healthcare agency. You'll need to include the following:
Executive summary

– Present a brief overview‌ ‌of‌ ‌your‌ ‌company.

Company description

– Describe your agency's mission and goals.

Services

– Explain what services you will be offering and how you will price them.

Marketing plan

– Decide how people will learn about your business.

Management and organization

– Provide an overview of your ownership structure.

Operational plan

– Provide information on the facilities and staff, along with the supplies you'll require.

Financial plan

– Write down a cash flow forecast, a balance sheet snapshot, and a break-even point analysis on it.
Step #5. Open a business bank account
Once you've registered your business, you can open a business checking account and credit card account.
Step #6. Secure funding
One of the primary reasons new home care businesses fail is the lack of working capital during the start-up phase. Depending on the location of your home healthcare agency, the estimated start-up costs run as follows:
Private Pay Home Care agency:

$40,000 to $80,000.

Licensed Home Health non-Medicare agency:

$60,000 to $100,000.

Medicare Certified agency:

$150,000 to $350,000.
You'll want to make sure you have a solid financial plan and robust funding to get your business off the ground.
Step #7. Check state licensing requirements
The non-medical home care business forms and licenses you'll need vary from state to state, so it's difficult to provide precise step-by-step instructions on what to do.
As a minimum, you'll usually need to attend a specific training course and become certified in‌ ‌CPR/AED. In some states, you don't require any other special licenses. But in others, you may need to take additional courses for personal care and caregiver training.
Step #8. Obtain adequate insurance
It's essential to obtain adequate insurance. As a minimum, you'll need:
Professional liability insurance

– protects you from claims of negligence, malpractice, or incompetence. (Also known as "errors and omissions" insurance.)
Depending on the services you're offering, you may also need:
General liability insurance

– covers you against claims involving third-party bodily injury and property damage arising‌ ‌from‌ ‌your‌ ‌product‌ ‌or‌ ‌ operation.

Cybersecurity insurance

– protects you from some HIPAA penalties arising from a breach or hack that exposes‌ ‌a‌ ‌customer's‌ ‌PII‌ ‌(Personal‌ ‌ Identifiable‌ ‌Information).
Step #9. Develop a sales and marketing plan
Three market segments should be at the center of your marketing plan:
Older adults and seniors.

The adult children of seniors.

Other relatives of seniors or disabled individuals.
Launch a website
You have to be visible online, which starts with creating a website that is easy to read and navigate on any device.
Set up a Google My Business page
Most local searches show a Google Map pack, so it's essential to get listed in there.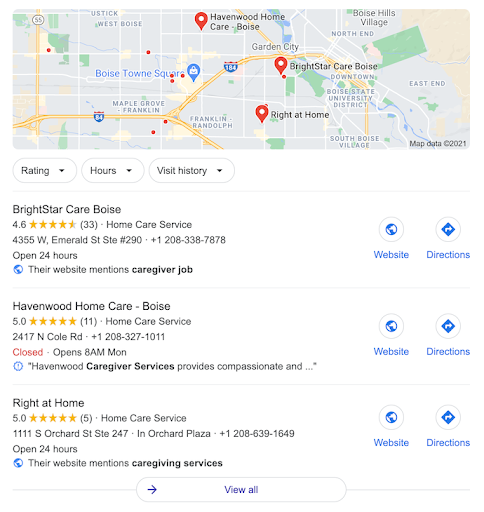 Connect with referral sources
Decide on the best sources for referrals in your area, such as connecting with long-term care facilities and hospital discharge social workers.
An excellent place to start is contacting local physicians, senior centers, and rehab outpatient centers and asking them for referrals. You can also inquire whether it's possible to place adverts or leaflets about your services in their offices.
Run Google Ads
Bid on keywords to get immediate visibility for your most important searches in Google. For example, you'd want to show at the top of Google for "[location] caregiver agencies". Someone searching for this term is looking for the services you provide, and ads are one of the best ways to get noticed even when you're starting.
TV and radio ads
TV and radio ads might be a viable option, but are usually quite expensive, so don't invest in these until your business is established.
Get active on social media
Use the social media channels where your target audience is active to start engaging them with helpful content about your services and care packages.
Collect and publish reviews
Showing up on Google is not enough – people want to see social proof that you are a trustworthy company when making such an emotional investment like caring for a loved one.
Step #10. Develop a recruitment and retention plan
The two most popular methods to retain caregivers ‌are‌ ‌recognition‌ ‌and‌ ‌training. You need to understand your caregivers to keep them and then use this knowledge to train new ones.
Step #11. Set up operations - scheduling, billing, and timekeeping - software
You'll need to set up back office operations, including accounting, billing, payroll, scheduling, and timekeeping software.
Step #12. Draft formal policies and procedures
Your formal policies and procedures need to cover the following:
New client admissions

Plans of care

Scheduling

Employee and payroll records

Hiring practices

Orientation

Client billing

Client rights and responsibilities
Step #13. Hire founding staff members
Since your home health care business provides personalized care services to patients, you want to hire employees who reflect your vision and provide the best possible care. Your business reputation depends on the quality of care you provide.
Healthcare professionals commonly employed in home care include certified nursing assistants (CNAs) and home health aides (HHAs). Bond all your employees if you can.
Step #14. Remain compliant with caregiver training
Home healthcare agencies have to meet compliance requirements in different states.
CareAcademy is an online training platform that is approved in all 50 states. Agency owners can enroll employees and monitor their progress. At the end of the training, caregivers will be compliant and authorized to provide services in their state.
It's easy for agency owners and their employees to get started:
Owners add caregivers.

Caregivers access training from any device.

Caregivers review progress and set up reminders to complete training on time.

Caregivers download training logs and certificates of completion.
CareAcademy's online training ensures agency owners and caregivers have a paper trail for compliance purposes.
Get Started Today
With the demand for private caregiver services set to continue rising, now is a perfect time to start your home healthcare agency.
Check out the range of online training at CareAcademy to get your business off to a fast start with fully-qualified and compliant caregivers. Or, book a demo and we'll discuss your needs, state requirements, and explore how CareAcademy can get your staff trained and compliant as soon as possible.