Peggy Milne opened her Home Helpers San Mateo agency in 2012. Since then, she received the "Leader in Excellence" award 4 years in a row and the "Employer of Choice" and "Provider of Choice" award 5 years in a row from Home Care Pulse, in addition to many Home Helpers and growth awards every year.
CareAcademy's CEO, Helen Adeosun, interviewed Peggy to get key insights into how she was able to put together recruiting, onboarding, and professional development processes that set her up for success at her agency.
Here were some key takeaways from what we learned (to listen to the full replay, click here):
Recruiting Tips
#1 Be Prepared With a Recruitment Packet
When Peggy started her agency, she pre-created a set of packets that could be given to someone on the spot. If someone was interested in a job, she could grab a packet that contained every possible document someone would need to fill out to start working. Over time, this "packet" transitioned to electronic documents, but the concept remained the same. Always be ready to hire!
#2 Always be hiring
Along with always being ready to hire, Peggy also noted that she was ALWAYS hiring. Even if she was losing clients due to seasonality and had more than enough caregivers at a given time, she would not let up on hiring.
This made a huge difference, because it ensured she wasn't strapped if there were any no-shows, prevented risk of caregiver burnout, and allowed her business to grow when there was a surge of clients. Underutilized caregivers could always help around the office and with recruiting tasks.
#3 Try multiple channels, and test, test, test!
Peggy tried every channel she could think of to hire caregivers, including Craigslist, Snagajob, Indeed, myCNAjobs, Facebook, ZipRecruiter, Monster, Care.com, and LinkedIn.
The top source of new caregivers were other caregivers, followed by Facebook. Peggy also noted that the best channel for recruiting may differ from city to city. Whereas Craigslist works well in other places, it doesn't work for her. And, don't be discouraged! Sometimes, channels that work suddenly stop working, and you just need to continue being creative with different ways to attract caregivers.
#4 Implement a Caregiver Referral Program
Since Peggy's top source of new caregivers were other caregivers, she implemented a formal caregiver referral program. At the start, her referral bonuses were $50-$70. However, as her business grew and she saw success with the referral program (more caregivers and better quality caregivers), she raised her referral bonus to $300.
She uses every chance she can get to promote the referral program, including putting it in every monthly caregiver newsletter, talking about it frequently, and providing extra referral bonuses from time to time (for example, during the holidays, when caregivers have many other job options).
#5 Make Sure the Interview Goes Both Ways
For the interview process, two of Peggy's office staff will perform separate phone screens. This is a time to not only see if the candidate is a good fit for the agency, but also a chance to build rapport with the interviewee. Both office staff would ensure that if they liked the candidate, they would take the time to have a very upbeat conversation with them via phone. Caregivers are in high demand and have many job options; in a sense, they are also interviewing you!
Onboarding Process
According to Home Care Pulse, one of the top reasons a caregiver chooses to work for a specific agency is because they are the first place to get back to them. Peggy's agency took this information into account when developing the interview and onboarding process.
In addition to creating a recruiting packet ( recruiting tip #1), she also did her best to shorten the process by combining the in-person interview with orientation. That way, caregivers would only need to come into the office one time, which also significantly lowered the dropoff rate and allowed her to hire more caregivers.
Below is a timeline of what Peggy's onboarding process looked like: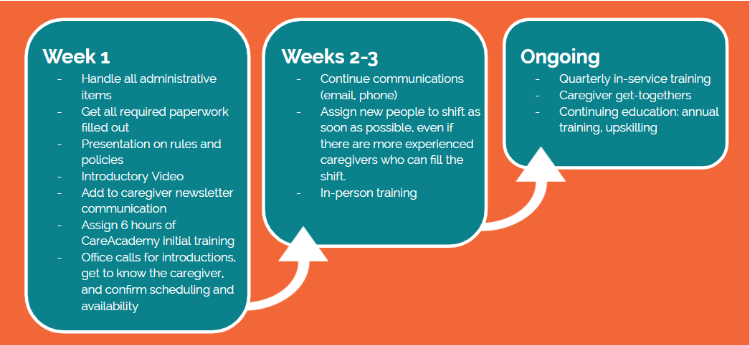 All administrative tasks and initial training is handled in week 1! This was imperative -  over the years, Peggy saw that the best way to retain caregivers within the first 30 days was to get caregivers working shifts by weeks 2-3, which meant there wasn't much time to get caregivers up and running before they would start to become disengaged.
Peggy ensured that whenever possible, new caregivers got shifts within that 2-3 week time frame, even if there were other more experienced caregivers who could fill it.
After the first few weeks, Peggy also made sure to continue to engage caregivers by providing quarterly in-service training, caregiver get-togethers, and continuing education.
Professional Development
From Peggy's entire recruiting and onboarding process, there was one recurring tip: shorten the process and make it easier for caregivers to start working.
Since the state of California requires initial training before caregivers can work, Peggy needed training that would be easy for her agency to assign out, as well as training that caregivers would actually complete quickly.
She tried several online training platforms, but they weren't quite what she needed. The first had great content, but didn't evolve over time. Most of her caregivers didn't have computers, so she needed something that could work on a smartphone. The second platform she tried fulfilled that requirement and checked the boxes, but the content wasn't interesting for caregivers, which meant lower and slower completion.
Peggy joined CareAcademy's pilot program. During the pilot, 80% of caregivers completed all the assigned initial training without a single reminder from her agency. Of the other 20%, they only needed a single reminder! This was huge for Peggy, because it also meant her office staff was saving valuable time that could be spent recruiting. She stated that before, her staff would spend 3-5 hours a week calling caregivers to remind them to complete their training. Now, she only spends 1 hour a week checking in. All that extra time is spent working on recruiting and growing the agency!
Q&A With Peggy
Do you use any caregiver screening tools?
We have tried a couple of them over the years, but mostly found that it slowed our process down. When people did reply to the surveys, we got some interesting information, but some potential employees didn't want to participate, and they went away before we had a chance to chat with them ourselves.  I'm pretty neutral on them at this point.
Do you follow up with caregivers if they no call/no show? If so, how and for how long?
Yes, we definitely follow up with anyone who no call/no shows. Sometimes there is a valid reason for their no call/no show, and we always document what they tell us. We will give second chances, but not third chances. Anyone who habitually does this has a work ethic problem and it's best to let them go so your reputation doesn't suffer.
What does your in person training look like?
In a client's home, we will work with the client themselves and/or a family member, to get any specific details we need from them for the caregiver to do their job as requested. We do this on the first day of care, and we will do it with any new caregivers that client gets in the future. (We do not always need to do this with each client – just for the complicated ones)
In our in-services, we have a guest speaker and they do a presentation, followed by some skills modelling. We also give handouts so the material goes home with the caregiver for future reference.
Do you pay caregivers for training and do you incentivize them to complete it?
Caregivers are paid for their time spent training. However, we don't provide additional incentives on top of that. By providing engaging, interesting training, caregivers will want to do the training!