The home care industry is rapidly expanding and agencies will need to find innovative ways to recruit new customers and caregivers. Setting your home care agency apart from the competition has never been more important--with the demand for direct care exploding, clients have more choices than ever to meet their needs.
In today's climate, thoughtful marketing can help savvy agencies connect with the right clients at the right time to grow their businesses. Start with these proven strategies to effectively market your home care agency.
Target New Clients on Social Media
Social media should be an instrumental piece of any home care agency's marketing strategy (both for clients and direct care workers!).  A well planned social media marketing strategy that includes both organic and paid components can help you get in front of the prospects that will convert to grow your home care business.
Facebook advertising is often the right choice for home care agencies to focus their strategic social media efforts. While other platforms are important for visibility, focusing your ad spend on facebook will help you seamlessly connect with target audiences for home care agencies: older adult
s and decision-maker middle-aged men and women in your area.

Source - Facebook usage among key demographics.
Facebook advertising allows you to target your audience based on location, demographics, behavior, interests, and social connections. From this point you can also build "lookalike" audiences, or groups whose interests and behavior mirror your best matches to expand your reach.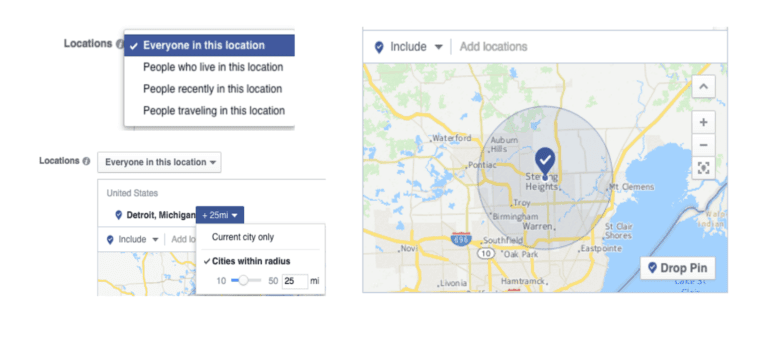 Home care agencies should consider targeting ads that address varied aspects of your buyer personas. However simply focusing on age and geographic area to reach potential customers directly within your local market is a great place to start.
Ready for a deeper dive into local Facebook advertising? Start here.
Put a Real Face on Your Marketing
Your direct care workers aren't just the heart of your home care agency, they can also be a powerful tool for your marketing. Featuring your direct care workers in your marketing activities -- from blog posts highlighting their accomplishments to using real images instead of stock photos -- puts a trustworthy face on your campaigns to connect with potential clients.
Home care is intimate work, requiring your clients to place a huge amount of trust in your services and your direct care workers. Featuring real direct care workers in your marketing helps your audience envision who they will be trusting to care for themselves or a loved one.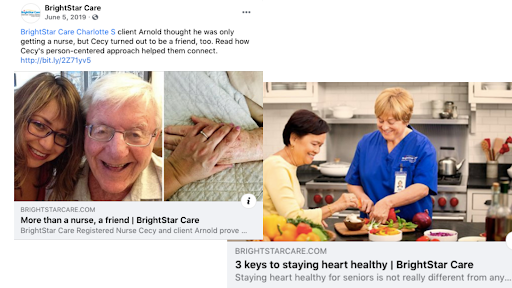 For example, BrightStar Care leverages their direct care workers across marketing content to humanize the care they provide. Real photos of direct care workers in action and stories of direct care workers going above and beyond for their clients provide a powerful, authentic message for prospects.
Market Directly to Your Referral Network
Referral marketing is a powerful tool for home care agencies. Your referral network is your web of connections that funnel clients into your organization, built on existing relationships and trust in the quality services your agency provides.
Common referral sources for home care agencies include (but aren't limited to):
Doctors
Hospitals
Discharge planners
Skilled nursing facilities
Independent living facilities
Rehabilitation centers
Hospices
Creating specific referral marketing campaigns is critical to keeping your agency top of mind with these direct sources for new clients. Try these ideas to build trust and make your agency a top choice for referral sources:
Create a referral packet:
Distributing a referral packet to identified referral sources is an easy way for them to get to know you, and seamlessly communicate the quality and scope of services your agency offers to potential referral clients. Be sure to include your company story, provided services, testimonials, awards, service area map, onboarding process sheet, and team biographies in your packet.
Create a COVID-19 fact sheet:
The demand for direct care workers has increased during the COVID-19 pandemic. However, the additional risks that direct care work presents to both caregivers and patients during a pandemic means reassuring your referral sources that your agency is taking necessary precautions is critical. Consider creating a direct mail or email marketing campaign highlighting your agency's COVID-19 safety precautions as well as any specific COVID-19 training your staff receives.